I have gone on multiple consultations where (typically) the male partner has set up Alexa to control the lights and it often fails when a female voice asks Alexa to turn on the lights. Multiple asks and yet no lights turn on. Have you had this experience?
To preface, most of my clients are Gen X (as am I), and when I asked one person who was having issues with Alexa, she stated that she would prefer not to talk to the lights.
That comment got me thinking; unless I am driving, I hate audibly speaking to Siri on my phone and in my own home I prefer timers or smart tech I can control from my phone. My assistant who is on the older side of Millennial, says she can't wait to get an Alexa for her home because with two small kids she often has her hands full!
While I don't know if this preference is generational or personal preference, here is a quick guide to a few of my favourite smart home items that don't require you to speak to them!
Any product by Nest!
My favourite is the outdoor camera, because it has this fabulous app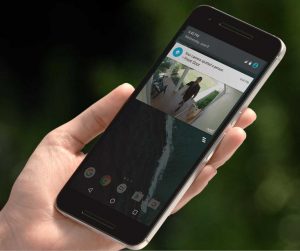 that I've installed on my phone that notifies me when it senses motion. I am able to check the video feed and see who is there! As a huge bonus, I can speak through the cameras and listen to a response which is really helpful if I'm home alone and not going to open the door! They also have a wireless doorbell that acts in a similar manner.
The other product that I love is their smoke and carbon monoxide detector. Have you ever been cooking and burnt something to a crisp, and then couldn't get your smoke detector to stay off? With the nest detector, you can turn off the sound from an app on your phone, saving your ears, your dogs ears and your sanity!
I've always wanted their thermostat too; because you can set the temperature from your phone while you aren't there. When we lived in Texas, we would come back from a weekend away in 105F weather and have to wait close to four hours for the AC in our rental to be close to cool! If we had a nest installed we could have set the AC to start 4 hours before we were expected to arrive.
In our Richmond, Virginia home, we put a ductless mini split system that has 8 individually controlled zones, and is truly the best heating and cooling system I've experienced. I wouldn't classify ours as true smart tech as I can't control them with my phone, but I can set timers, and each one has a remote. If we ever find ourselves in another home with only one or two heating zones, I wouldn't hesitate to install the nest thermostats.
Sound
I have the very best speakers in the world — ok they probably aren't but I've had several audiophile friends offer to buy them from me because they don't make home speakers like they used to. They are in a wooden box surround, made in Britain and are quite heavy and large. I moved them to every home I've lived since I was 15! When I'm home alone I put the dogs in the other room and turn them up!! Nothing beats a dance party to alleviate stress. Through our reno, I missed the speakers more than a kitchen stove (we had a camp stove) but not more than the sink!
Right, so this post is about smart tech, not ancient technology, ha!
For the past many years I had a super long cable that would plug into my iphone audio jack and this enabled me to play music through my (also ancient) receiver. Last year my husband got me this great little device that allows me to Chrome Cast my music to my ancient technology without cords, cables or fuss! And now that phones don't have headphone jacks this gadget is even more needed!
Check it out here, it's super inexpensive too!
Water Leak Prevention
In our old home, we have a small 10×10, under grade (below ground) basement. At the moment our home doesn't have any perimeter drainage, so when we get rain, the water seeps into our basement through the walls, drains into an small open concrete pit where the sump pump sends it back out and away from our house.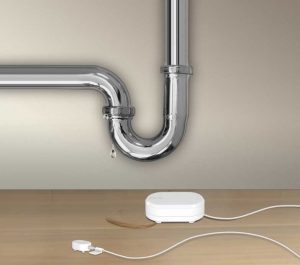 Even though our sump pump is fairly new, on the rare occasion it gets too much sediment in it and it shuts off, allowing water to accumulate in the basement.  As we know this is a wet area, all items in the basement are elevated to minimize any potential water damage, but if we were away and this were to happen, we could possibly have damage to our two deep freezers. I found this alarm, that will alert us via an app, so that we could call a neighbour to check on the sump in case of this issue.
Even if you don't have a sump, I would also find this useful for under the washing machine, or hot water tank to alert me to potential issues before floors and ceilings get damaged too much!
Check it out, here. It runs on batteries, so even in a power outage, you still should be notified, and it's extremely well priced.
---
Tell me below: Do you like speaking to your smart home, or do you prefer to control them from your phone?