Recently I asked my Facebook Audience how healthy they rated their homes.  Today I'll talk about four ways you can increase the health of your home.
** I'm a little more technical in this post, if the science is not your thing, skip on over the sections where I detail chemical names!
When I speak about a healthy house, I typically mean the indoor air quality. If you live in an old house, like I do, then you'll have a lot more air moving through the walls, windows and doors, but there is a larger possibility of materials used in the home that wouldn't be allowed today. Lead paint and asbestos are the largest two concerns in an old home.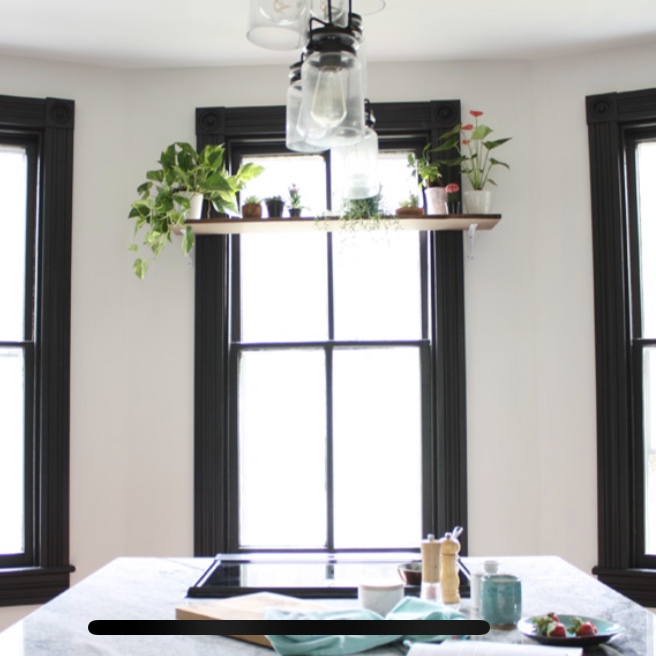 If you live in a newer home and it was built to seal the air in, you hopefully also have an air exchanger installed to cycle the old air out and new air in to your home.
Either way, there are plenty of ways that you can influence and change your indoor air quality.
Why is it important?
"The air in your house can be five times more polluted than the air outside" – Consumer Reports [1]
And it's not just our respiratory health we need to be concerned about.
The range of indoor air pollutants includes VOCs, phthalates, PBDEs, mold, pollen, pet dander, radon, and more. Most of these qualify as fine or ultra-fine particulate matter that are easily inhaled and can pass into the bloodstream, and even cross the blood-brain barrier. Dry eyes, headaches, nasal congestion, fatigue, and even nausea are common symptoms. Serious problems such as asthma, lung infections, or even lung cancer have been linked to exposure. Particles which enter the bloodstream have been associated with stroke and depression in adults, and children have shown increased systemic inflammation, immune dysfunction, and neural distress. [2]
The good news is that most of our indoor air quality can be controlled by us. Here are my top 4 recommendations for ensuring you have a healthy home.
1.  Cleaning & Laundry Products
A recent study has confirmed that using conventional cleaning products are as bad or worse than smoking a pack of cigarettes a day! The study looked at women who regularly used conventional products over the long term. [3] 
Scientists recommended that these products be avoided and to use a microfibre cloth and water instead!! 
I've found that not all microfibre cloths are equal. My favourite cloth is made by a company called Norwex and the cloth is considered an Ultra Micro Fibre (UMF) Cloth.
According to studies completed to see how effectively the UMF cloths removed bacteria in a hospital setting, they found that the "UMF cloths demonstrated ability to remove single application of bacteria without serum from surface to almost completely zero growths compared to the conventional cloths." [4] In layman's terms: they "showed that ultramicrofibre cloths consistently outperformed conventional cloths in their decontamination ability"
I wholeheartedly believe this is the best cloth out there for cleaning and I'm not making money on this recommendation. They also make a glass cloth that effortlessly shines mirrors, faucets, stainless steel. First, wipe surface with a damp microfibre cloth and then wipe it with the mirror cloth. Simply amazing, and no more glass cleaner fumes!
My friend Tuyen sells these products and you can check them out here.
I still do use cleansers for some tasks, but I always use eco-friendly cleansers without the myriad of chemicals added.
The main ingredients you want to avoid in your cleaners are: triclosan, quaternary ammonium compounds, or "quats", phthalates, synthetic musks (scents), hydrochloric acid, phosphoric acid, potassium hydroxide, ethanolamines, ammonia and chlorine bleach! Yikes right?
If you look at the ingredients of your conventional cleaners you probably won't see any of these listed. This is because there aren't any regulations on the disclosure of chemicals in your cleaning products. "Even when they do list the ingredients, manufacturers often use generic terms like "surfactant," "colorant," "preservative" or "fragrance." These vague terms can mask dozens of compounds, some of which have been linked to serious health impacts." [5] 
The Environmental Working Group is a huge resource for healthy living. They have health guides for a ton of products (food, beauty, cleaning, home health). Here you can enter your current cleaning product and see the health grade it's been given and why.
This tip is the easiest to incorporate into your life and will make a huge difference in your indoor air quality!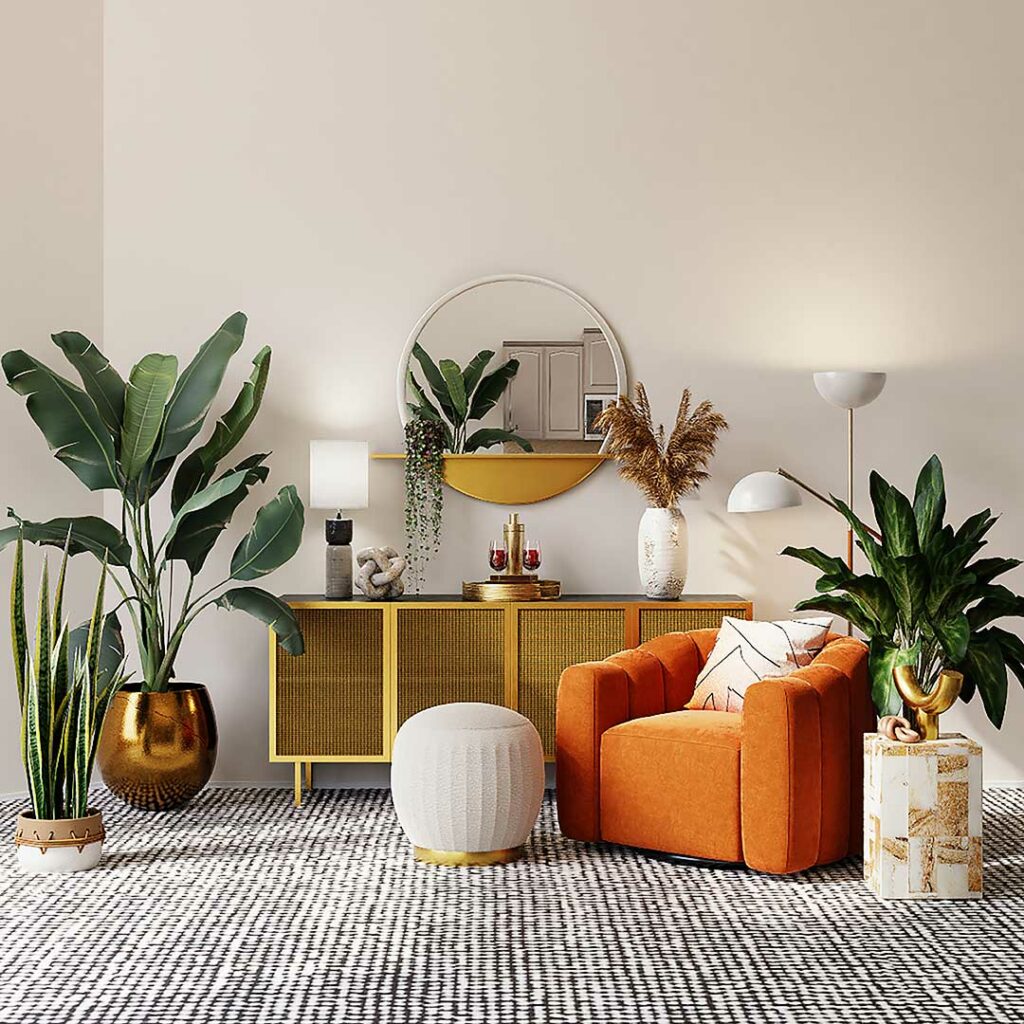 2. Paints and Floor Finishes.
Before I moved to the US, I painted every room in every home I lived in. That was a lot of painting, a ton of colours and a few poor choices! One of which was the paint I was using.
A lot of house paints still incorporate nonylphenol ethoxylates, formaldehyde-releasing preservatives, biocides, ethylene glycol, phthalates, "antifungal" or "antimicrobial" additives, crystalline silica and toxic metals, such as cadmium and chromium. Say, what? In plain language, paint has a ton of chemical additives!
Before you buy paint, look for low or no VOC paints and ideally choose a brand that has been third party certified like Sherwin Williams with their line of Greenguard Gold Certified Paints or Benjamin Moore's line of Greenseal-11 Certified Paint.  When you work with me I'll specify the best paint type to use in each area of your home and I always choose a low or no VOC paint! (Bonus, cause then you don't have to learn about the kinds of paint out there!)
We were living in our home when we refinished the floors. Since I know I become nauseous and ill around intense chemicals and fumes, I chose to use a highly rated waterbased topcoat made by Bona on most of our floors. It is Greenguard Certified for indoor air quality. Because I have dogs who have injured themselves by slipping and sliding on hardwood floors, I used the non-skid formula and I've been pretty happy with the results. Though I still need to use rugs on their landing areas where they zoom up or down the stairs!
In some of our other rooms and on our live edge floating shelves I used a topcoat by Vermont Natural Coatings, which is also Greenguard Gold Certified. Fun Fact: it's made with whey and smells a little like buttermilk. It also dries super tough.
If you are having your floors re-done, ask if the products they are using are Greenguard Certified. If you are doing it yourself, the Vermont Natural Coatings was easier to apply than the Bona product.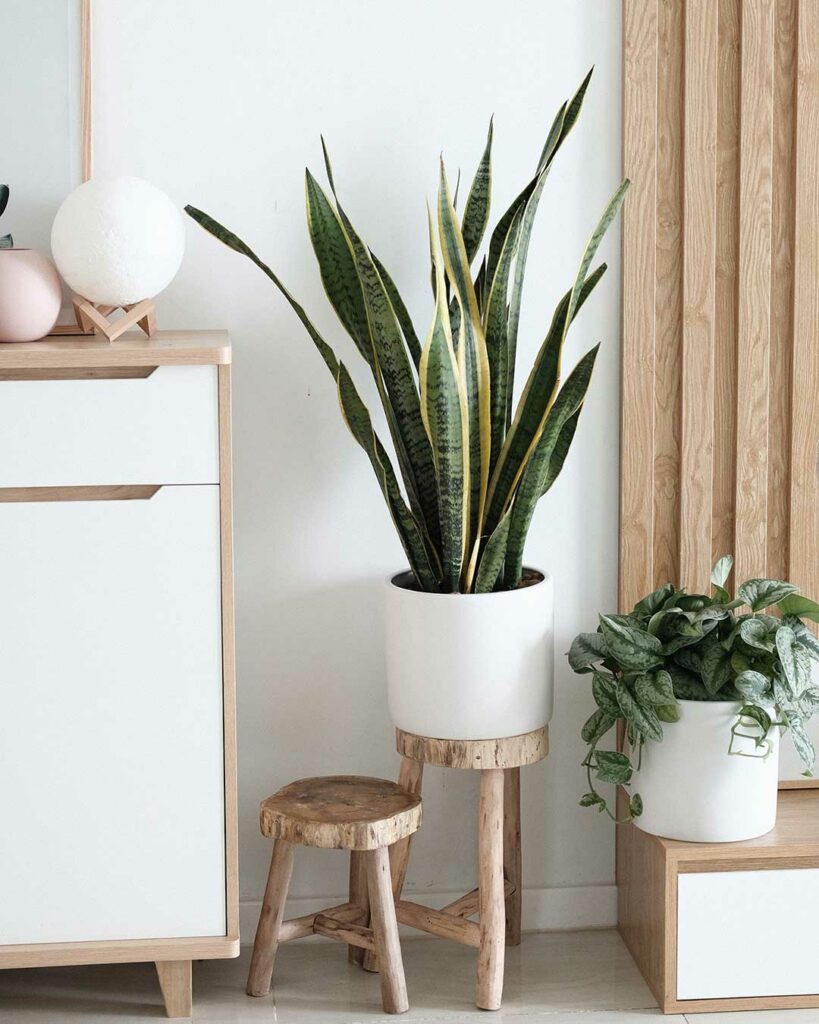 3. Furniture & Cabinetry
Being aware of where our furniture and cabinets come from is a huge step in considering your indoor air quality. These items contain VOC's (Volatile Organic Compounds) and formaldehyde that can release into the air for up to several years. You'll especially find higher chemical content in particleboard and in the glue in plywood. [6] 
With upholstered furniture, chemicals are often sprayed on to the fabrics and the polyurethane foam (found in cushions) is especially toxic.
What to look for in products you choose for your home:
Choose durable products, so you don't have to replace them. Options include:
Buy good quality furniture that is made in North America
Find cabinets and furniture that uses waterbourne with low or no VOC finishes
Ensure your cabinets are made from wood and not particleboard
Choose good quality used furniture and have them re-upholstered using foam with no fire retardant chemicals added
Where to find healthy furniture:
If aren't working with an interior designer who can source healthy furniture and are purchasing retail, check out the Wood Furniture Scorecard. Top scorers include Crate & Barrel, Williams Sonoma and Ikea, among others, though this doesn't address the level of quality of these products.
Where to find healthy cabinetry:
The Kitchen Cabinet Manufacturers Association has a great search tool. They only guarantee that their products will be low formaldehyde, so another option would be finding a local cabinet maker and ask if they will use formaldehyde-free products along with non-toxic glues and finishes.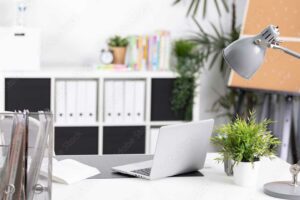 4. Plants
"One famous NASA experiment, published in 1989, found that indoor plants can scrub the air of cancer-causing volatile organic compounds like formaldehyde and benzene. (Those NASA researchers were looking for ways to effectively detoxify the air of space station environments.) Later research has found that soil microorganisms in potted plants also play a part in cleaning indoor air." – Time [7] 
That said, plants are on the bottom of this list because, while plants do clean our air, there haven't been any studies on how many plants are needed per square foot to fully clean our air.
I advocate for the inclusion of plants in our homes because studies have shown that plants are beneficial for our mental wellbeing by calming our nervous centre and improving our mood. 
I often hear from people that they have a hard time keeping plants alive, so here is a list of some of the easiest care plants.
Golden Pothos – This plant thrives in a low light environment. Meaning; there is a window in the room and it's not totally dark!
Aloe Vera – Easy care plant, but needs a sunny windowsill!
Snake Plant – Tolerates low light, but prefers moderate light. Meaning it should do fine anywhere you put it, as long as it's not totally dark. It will grow faster with more light.
Peace Lily – Tolerates a wide variety of light. They will not re-bloom unless it lives in a high light area (so a sunny windowsill or bright light near a window). It will live but not bloom in a low light environment.
With each of these plants you should water them till the soil is damp, not soggy and then water again when the soil feels dry, but before it gets bone dry. Generally this is once every 7-10 days.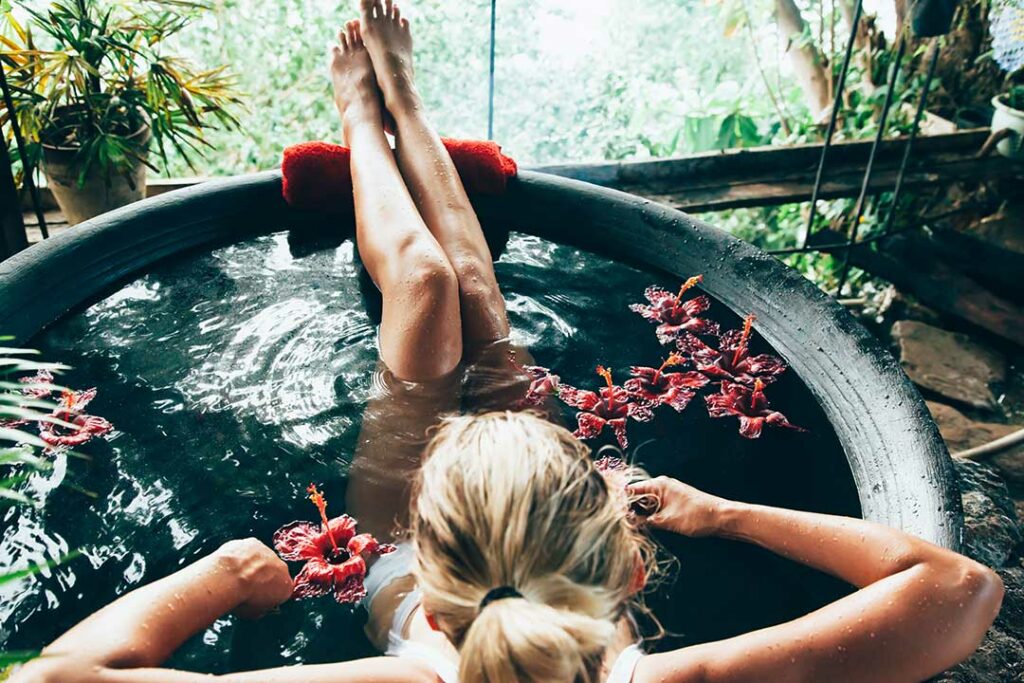 In conclusion
If you are still reading (thank you), this was a little more science heavy than most of my posts! I'm so passionate about helping people create healthy homes and I could probably type another 10 pages on things to look for! (But I won't, for your sanity!)
Start small and each step you take towards a healthy home will increase the quality of your indoor air.
Tell me below (or here on FB):
Did any of the above surprise you? What will you change about your home?
---
As a Denver interior designer I am passionate about helping you create your own healthy home. Contact me here and I can't wait to work with you!